Parts and Games for Sale
We occasionally have parts and games for sale Unless otherwise noted all games and parts are in used working condition. For more information about items on this page please contact us at
info@evolutionamusement.com
Please include your zip code in your request so that we may give you a shipping charge estimate in our reply.
---
Boards
We have hundreds of boards for the classic games. Far too many to list and track on this site. Contact us with what you are looking for and we will reply with what we have.​
---
Atari Battlezone $650
​Nice Shape overall. Has high score kit in it. Front Step is missing. Plays great
​
---
Jungle Hunt Cocktail $650​
​Plays well and in good shape with some minor condition issues such as missing a strip of T moulding and wear on the control panel

---
Time Crisis $450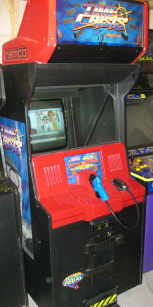 In very nice shape. Monitor has been recapped and rejuvenated. New force feedback gun just installed. The original in this popular series and still a lot of fun.
---
Crusin World Neon Topper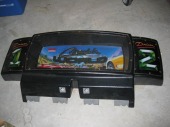 This is the neon topper that sits over two joined Crusin World sit down games. Also lights up the number of the player that is in the lead. Working and in good shape but does have some light scratches from use on the clear plexi portion. Topper has the driver one and two position. The player numbers are changeable and I can provide a source of where to buy the other numbers. $100 pick up only on this item.
---
Jumbo Claw for Coast to Coast Crane Machine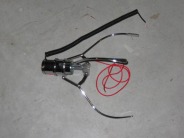 For use in a Toy Taxi or Hot Stuff crane, it probably will work in others. We have a few of these in stock all used for testing the cranes. We usually swap the jumbo claws for smaller claws when we get new crane machines. Which leaves us with many of these around the shop. These are $145 when bought from the manufacturer. Our price is $75
---



Games and Parts Wanted
We are always looking for more games to add to our inventory. If you have anything coin operated that you are interested in selling contact us at
info@evolutionamusement.com
Any condition, any age, any quantity, any brand working or non working, or even just parts of a coin operated machine. We are always buying pinball machines, redemption (ticket) games, mechanical coin operated games, coin pushers, cranes, video games, strength testers, candy machines and soda machines. We offer fast hassle free pickup of the items and cash paid on the spot.
We are currently looking for the specific items:
Atari Star Wars sitdown or stand up versions
Bally Fathom Pinball machine
Bally Nitro Ground Shaker Pinball
Bally Elektra Pinball
Nova The new Addams Family shocker
Nova Borg First Contact shocker machine (one or two player)
Stoner Candy Machines and parts
Williams Black Knight and Black Knight 2000
Alvin G Punchy the Clown
Alvin G Dinosaur Eggs
Gottlieb or Premier Bullseye pinball / redemption game
Gottlieb 27 inch pinball legs
Gottlieb coin door used on System 3 games. Has two coin slots and a bill acceptor mounting point
Sega Vector game Convert A cabinet. Games such as Star Trek, Tac Scan and Space Fury came in this cabinet.
Williams Cruisin World sit down cabinet in nice shape. Stripped is fine.
Nichibutsu / Tatio Crazy Climber
Tatio Cabinet Zookeeper, Elevator Action, Jungle Hunt / King, Alpine Ski all came in this style cabinet. No electronic parts needed, stripped is fine.